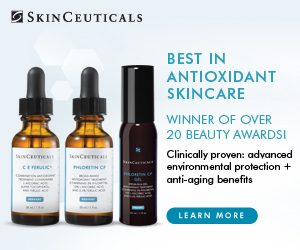 KEY TECHNOLO G I E S : P R E V E N T, P R OT E C T, AND CORRECT
PREVENT SkinCeuticals topical antioxidants have been scientifically shown to provide advanced daytime environmental protection and promote skin's natural nightly repair. SkinCeuticals antioxidants help protect from environmental aggressors and repair from the inside for the most complete environmental protection and outside correction.
PROTECT SkinCeuticals advanced sunscreens are skin's first line of defense against UV rays. Working from the outside, SkinCeuticals broad spectrum sunscreens shield skin by deflecting and absorbing damaging UVA and UVB rays. Featuring Z-Cote®, transparent zinc oxide, SkinCeuticals offers a broad range of sunscreens for various skin types and lifestyles.
CORRECT SkinCeuticals corrective products combine reparative, lightening, and exfoliating ingredients to help rehabilitate skin and restore a healthier, more youthful appearance. Our advanced ingredients and technologies correct fine lines, wrinkles, laxity, hyperpigmentation, acne, and more.