Transform Your Skin From the Inside Out
The Nu-Derm System is an anti-aging therapy that penetrates below the skin's surface to transform skin cell functions at the cellular level and correct the damage within…revealing healthy, younger-looking skin.
Skin aging is a natural process, but daily sun exposure can contribute to premature aging, slowing down the turnover of skin cells between healthy new cells and old damaged cells. The Nu-Derm System combined with tretinoin* is clinically proven to help address the signs of aging in all skin types.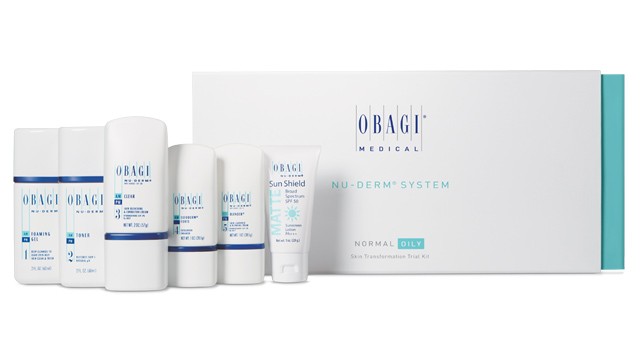 Nu-Derm is ideal if you have:
Age spots
Fine lines and wrinkles
Rough skin
Skin laxity (loss of elasticity)
Erythema (redness)
Sallowness (yellowish complexion)
Hyperpigmentation (discoloration)
Complete Skin Care System Customized by Skin Type
Our best-selling clinically proven skin care system is available in 2 customized sets based on skin type, Normal to Dry Systemand Normal to Oily System, and also includes Complementary Products to enhance your skin care routine.Normal to Dry System
Complete skin care system specially formulated for normal to dry skin to transform the appearance of aging skin.
Gentle Cleanser
Toner
Clear
Exfoderm®
Blender®
Hydrate™
Sun Shield Matte Broad Spectrum SPF 50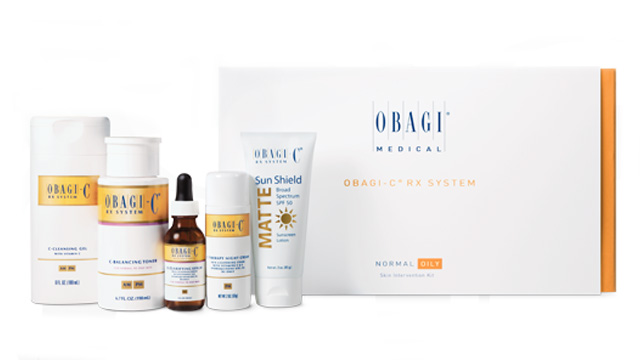 Obagi-C® Rx System
Address early signs of skin aging and skin damage with a unique regimen that combines the benefits of both prescription-strength hydroquinone and the power of Vitamin C.
Vitamin C Protection Like You've Never Seen Before
With Obagi-C Rx, you're on your way to softer, smoother, radiant, and more even skin. The Obagi-C Rx System offers the benefits of both prescription-strength 4% hydroquinone and powerful antioxidant Vitamin C to address the signs of skin damage and help restore and maintain younger-looking skin.
Obagi-C Rx System products are ideal if you have:
Minimal fine lines and wrinkles
Mild to moderate unevenness of skin tone
Mild to moderate discoloration and age spots
Dry, normal, or oily skin