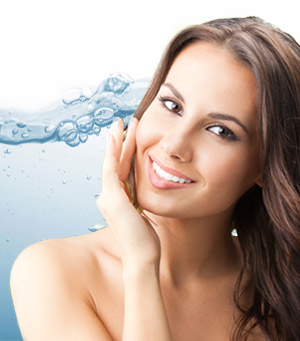 The HydraFacial® resurfacing procedure is a wonderful all-in-one way for us to care for your skin. The HydraFacial® cleanses, exfoliates, extracts and hydrates. Unlike other systems, HydraFacial® hydrates not with water, but with the Vortex-Fusion® method using Antioxidants and Hyaluronic Acid to hydrate, nourish and protect!
During your visit to VIP Aesthetics in Fort Lauderdale, you can expect your HydraFacial® to be completed in a relaxing, fun and professional atmosphere by one of our specially trained technicians. Once you are brought into the HydraFacial® room, you will be asked to remove all facial jewelry and pull all of your hair away from your face. Headbands can be provided if you need one.
The HydraFacial® process can be broken down into several simple steps:
Step 1 – Cleansing and Exfoliation. During this step, dead skin cells are removed painlessly to reveal the younger, healthier skin cells beneath.
Step 2 – Acid peel. Don't let the name scare you. The peel is incredibly gentle and is meant to help loosen dirt, oil and other debris from the pores without the irritation that other acid peels can cause.
Step 3 – Extractions. This is the part of the HydraFacial® that is designed to clean away that dirt and oil that has been loosened by step 2. The vortex suction can be especially effective against blackheads.
Step 4 – Hydration. As was mentioned earlier, hydration is done using a mixture of antioxidants and hyaluronic acid. This mixture of compounds is designed to help nourish and protect your skin long after the treatment is over.
Step 5 – Protection. To further protect your skin, VIP Aesthetics proudly offers the HydraFacial® Daily Essentials™ line. This line was designed specifically to work in conjunction with the HydraFacial® treatments and provide detoxification, rejuvenation, and protection while targeting the needs of your unique and individual skin! This is especially important here in Fort Lauderdale where sun exposure is a near-constant part of our day – even driving in our cars or sitting indoors near a window is enough to require protection.
Before and After Gallery
HydraFacial® treatments have been recognized and featured in the spotlight of the most popular magazines, blogs sites, and on news programs and television shows such as The Doctors and The Real Housewives of Beverly Hills.